Costume Design and Concept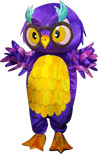 Running out of ideas of what costume design you need for your yearend Dinner-and-Dance event? Why not get a fresh concept from us? Whether your ideal fantasy is for the latest Sci-Fi movie, or something from a horror flick, we can produce ideas and sketch concepts for you! Can't find what you need at our warehouse? Let us know what you need and we'll draw up a draft for you!
Mascot Cleaning / Maintenance Mascot / Costume

Over at Global Mascot, we value hygiene and cleanliness greatly. Our laundry services are done in-house and we are able to clean and maintain your mascots and costumes after every use! Do you have a costume or mascot that needs cleaning? Send it over to us. Our professionals can get it cleaned for you spot-free!
Made to order of costume, mascot and props

Whether you're creating a Ghoulish design for yourself for Halloween, or a mass production of Santarinas for Christmas, Global Mascots are able to make customized costumes for you. We understand that at times, you might not be able to find the specific costume you need, so why not just make one out from scratch? This will give you a very personalized look, turning heads at your next party!
Talent and Event management
Have a costume with us but too shy to parade down your event in style? Not to worry, Global Mascot provides talent management services should you require someone to dress up in mascots or costumes for your event! For more information, do drop us an inquiry at info@global-costumes.com for more details!

Are you dressing up as Zombie for Halloween but unsure on how to recreate a battered, decaying look? Or perhaps you have dreams of looking like your favourite animal but you don't have a good hand at painting? Not to worry, we provide you face painting services too! What's a party without funny faces and joyful smiles? Get your cameras ready, because this is going to take you to a whole new world!